Launch a new product
In 2020, SmartRecruiters recognized the need to improve the candidate experience when applying for jobs. To address this, they decided to expand their offering by developing a new product specifically directed to candidates: Smartr. In 2021, the Minimum Viable Product was ready for market testing. A team consisting of a product designer and myself was selected to be at the forefront of the project. Our task was to define a brand identity and apply it to all marketing and product pages, ensuring a cohesive and consistent brand experience.
Define and test the direction
Working closely with the Product Manager and Product Marketing Manager, we analyzed market trends and gathered requirements to guide the development of a cohesive and impactful brand image.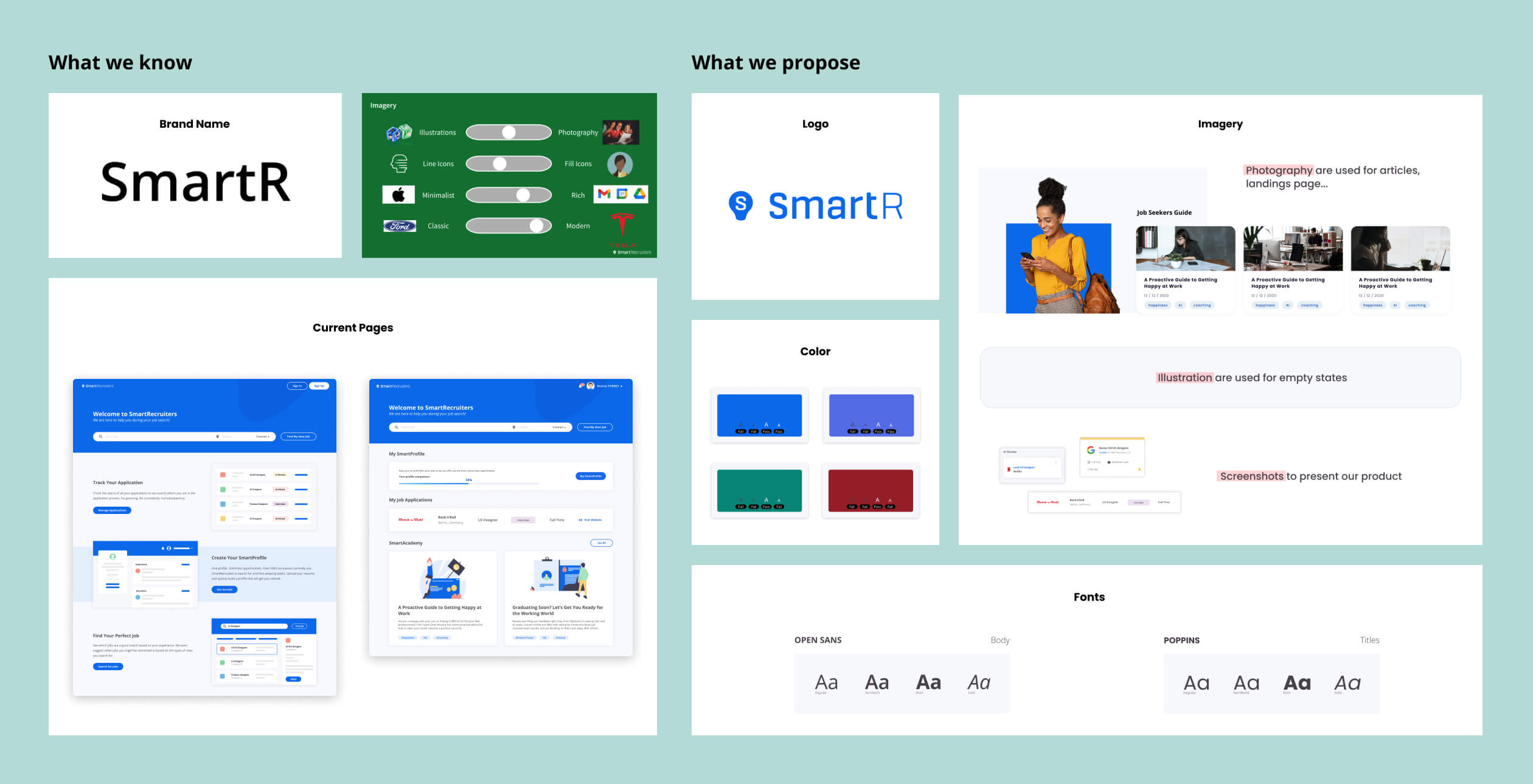 I conducted multiple iterations of the homepage design, experimenting with different visual elements, colors, and layouts, to determine which combination would resonate most effectively with our target audience and communicate the desired brand image. The goal was to create a user-friendly and aesthetically appealing homepage that would enhance the candidate experience and drive engagement with our product.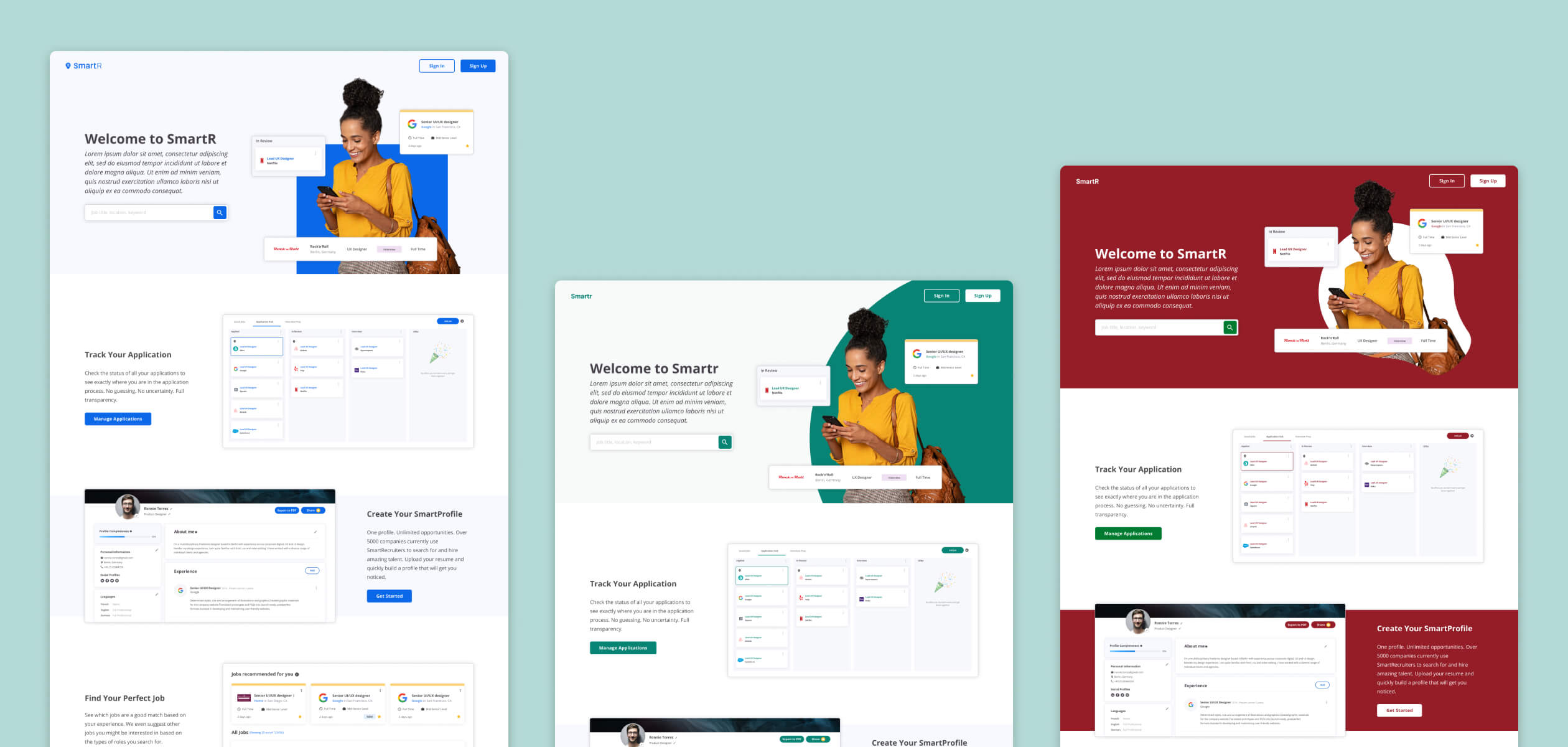 With the final design direction for the homepage established, I designed variations in four different color palettes for testing.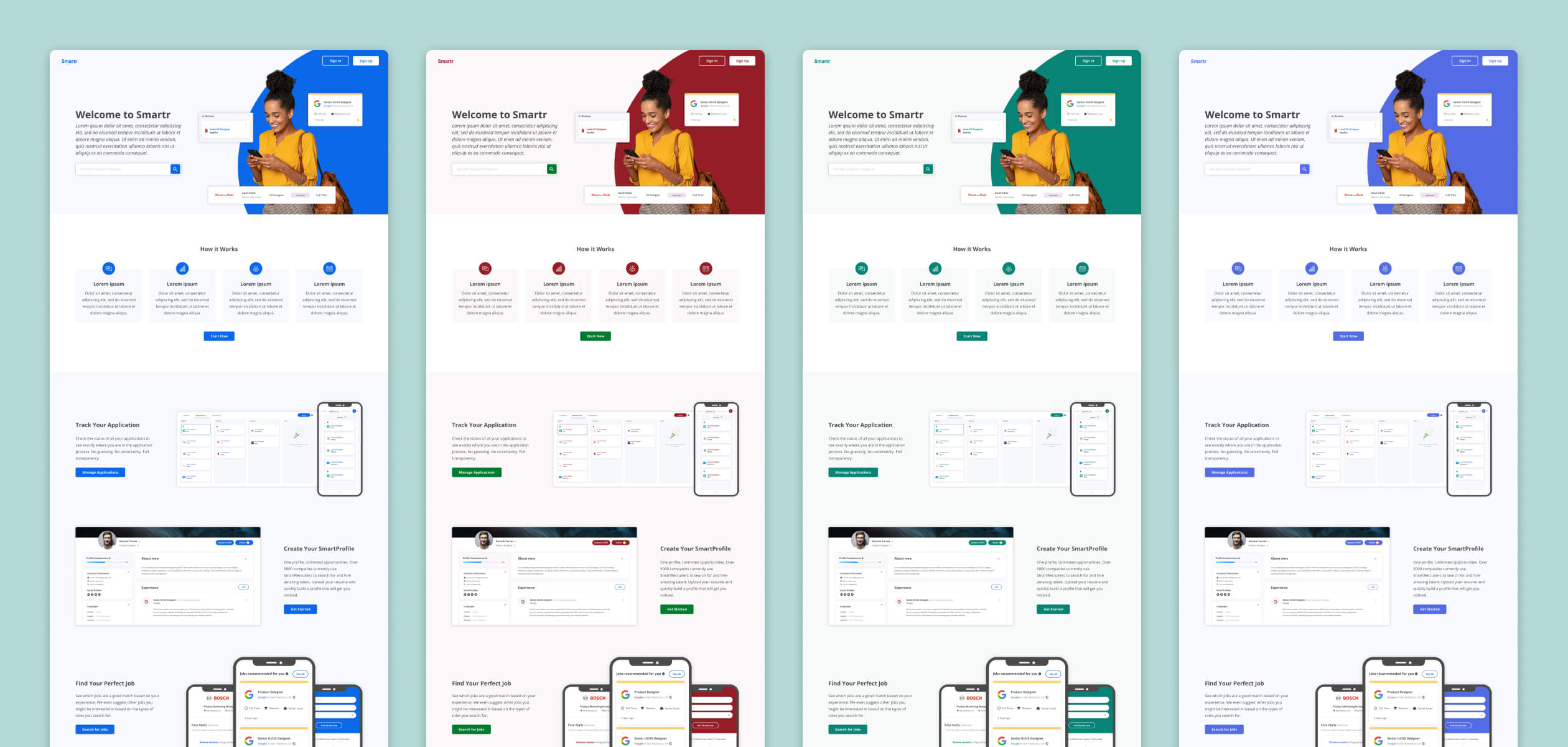 Through rigorous user testing, we gathered data and insights on the color preferences of potential users, in order to determine the most impactful and appealing color scheme for the homepage of the product. This information was integral in guiding our design decisions and ensuring that the visual elements of the product would be well-received by its intended audience.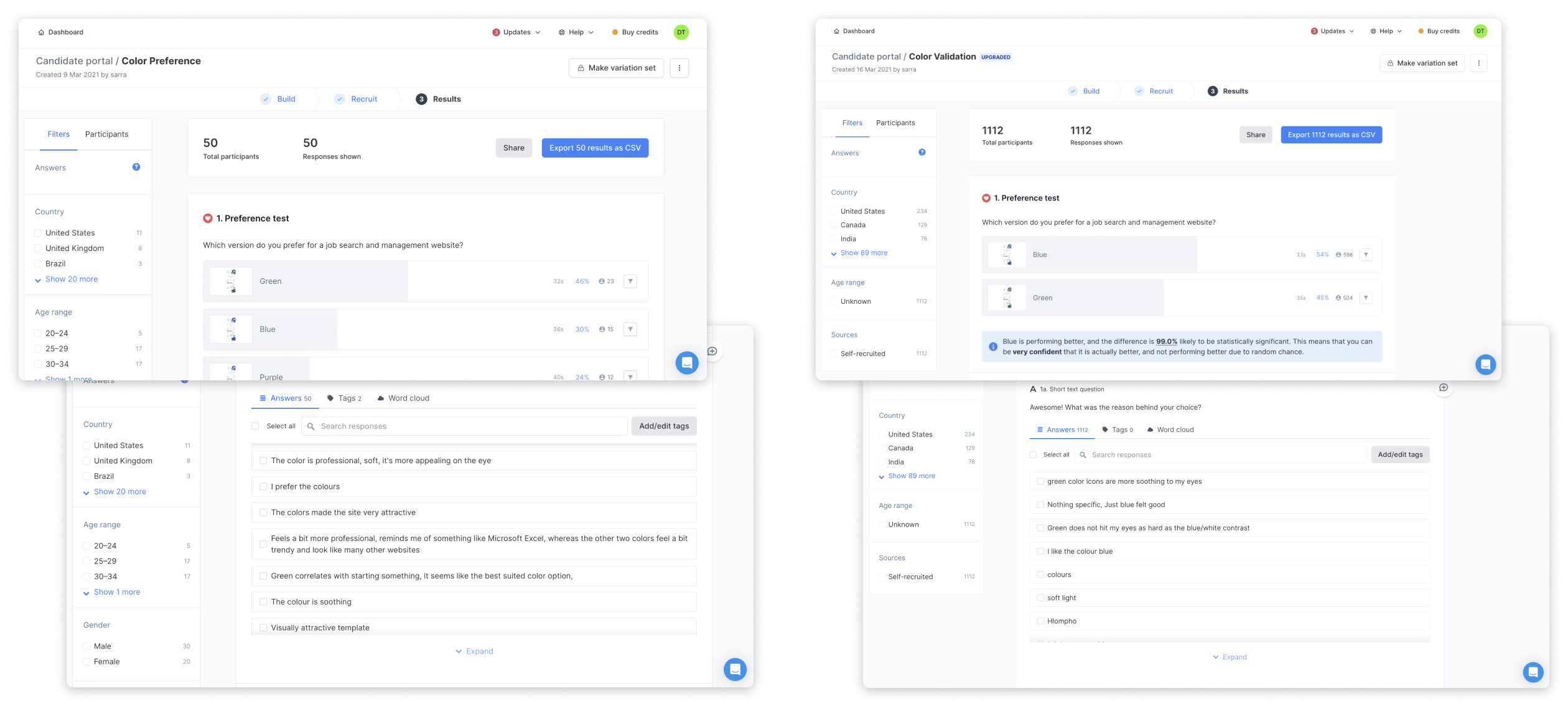 Design marketing and product pages
In order to ensure a seamless user experience, we not only worked on the marketing and product pages, but also put a significant amount of effort into making sure the brand was consistently applied across all touchpoints. This included creating new marketing pages to effectively communicate the product offering, pricing, and user validation, as well as rebranding existing product pages to align with the newly defined brand. Furthermore, recognizing the increasing importance of mobile usage, we meticulously crafted the mobile experience to be optimal for our users, conducting thorough testing and making necessary optimizations.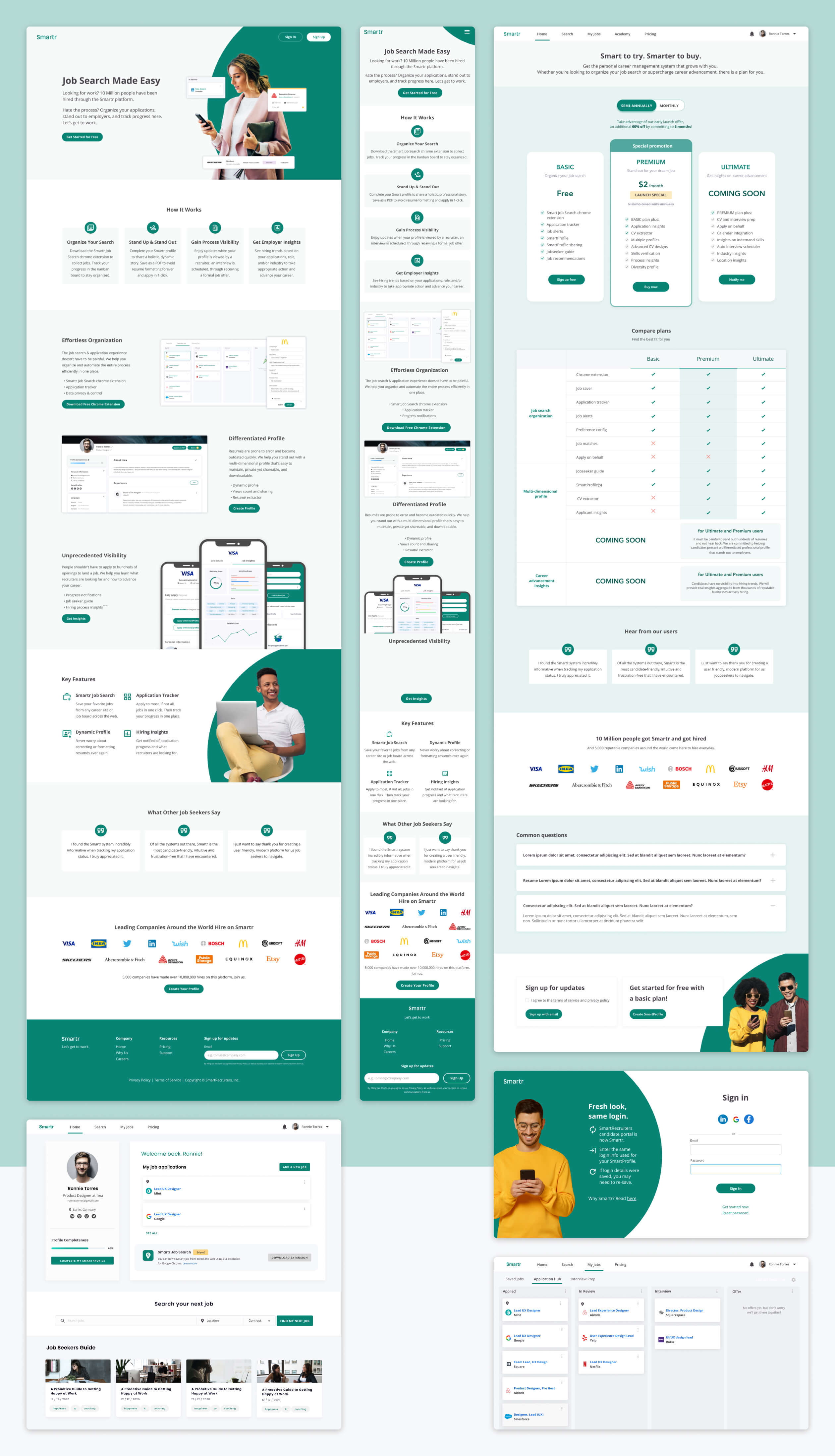 The successful rebranding of SmartRecruiters' candidate product was a result of a collaborative effort between the core team, user research, and iterative design and testing. By focusing on user experience and ensuring consistent brand representation across all marketing and product pages, the team was able to position the product for success in the market. The result was a polished and user-friendly product offering that effectively communicated the value proposition to prospective users. The product achieved a monthly retention rate of around 17%, with 12% of users completing main tasks within the first two weeks. Additionally, the product achieved 44% engaged monthly active users, demonstrating the success of the rebranding effort.
Smartr was eventually discontinued due to a shift in the company's priorities.